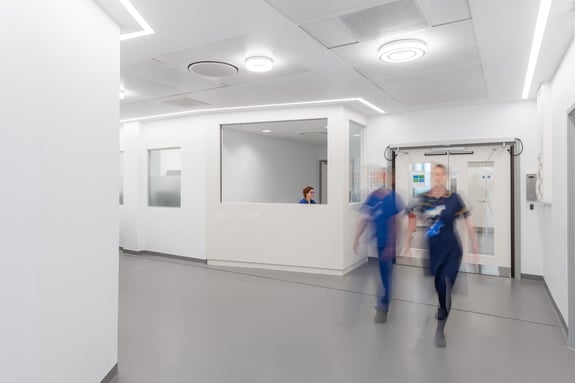 Hospital Doorsets
Experience peace of mind with SDS's comprehensive healthcare doorsets. From fire doors to integrated solutions, our expertly designed and fully compliant products ensure safety and performance. Benefit from single-source convenience, pre-hung options, and premium architectural ironmongery. With fire ratings, door closers, and pre-assembled options, our hospital doorsets save costs and exceed industry standards. Trust our proven experience in the construction industry for your specialised needs.
FIRE COMPLIANT DOORSETS
Our SDS doorsets guarantee fire compliance and are supported by comprehensive fire test evidence that demonstrates the effective use of all our components when installed together.
Components include:
The Door Leaf
The door frame
Glazing
Ironmongery
Fixings
Fire-stopping materials
Intumescent products
Fire signage
RANGE OF OPTIONS
The SDS hospital doorset range offers an extensive selection of glazing options, color choices, and door leaf sizes, providing you with the flexibility to customise your door with edge protectors and kickplates. Additionally, you have access to a wide range of doorset automation options and ironmongery, allowing you to create the perfect door solution for your needs.
WHAT OUR CLIENTS HAVE TO SAY
"We always found SDS to be a reliable partner during the design and delivery stages of our work."
"SDS's customer service skills ensure that the items are always delivered to a high standard and within the guidelines of our orders."
"Specified solid timber doors with full PVC encapsulation are one of the most robust doors on the market and copes well to the challenging environment."
"By using a well-known PVC postformed door supplier we have the reassurance that the doors will be clinically fit for purpose."
"It is fair to say you are one of the very best subcontractors we have had on site."
CASE STUDIES
We are very proud of our 40-year track record of successful collaboration with architects, contractors, NHS Trusts and private hospitals, partnerships which are based on our core tenets: Specialisation, Dedication and Sincerity.
Read from our selection of case studies to see just how we have helped to make a difference in a range of projects, including healthcare and clinical environments.