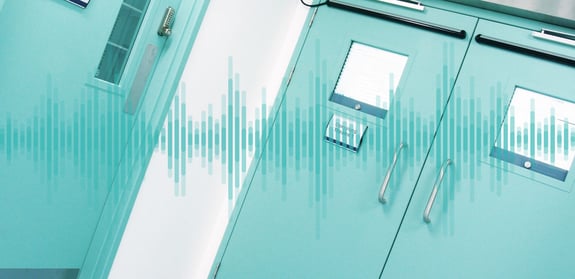 Acoustic Ratings
Acoustic rated doorsets are both a common and vital part of any project.
Whether it be a surgical procedure room, a family consultation room, an office or a plant room – there are many reasons to specify a doorset which will provide sound reduction. Here at SDS we understand these needs, and are able to custom manufacture acoustic doorsets to suit a large variety of needs.
Acoustic rated doorsets are available in any of our dFend colour range
Single and double leaf configuration doorsets are available
Glazed apertures are available for most acoustic doors
Fire rated acoustic doors are available up to 35dB and non fire rated acoustic doorsets are available up to 42dB
Doorsets are available with Traditional and Split frames
Available in a large range of heights and widths
All acoustic doors are provided with the relevant acoustic seals as standard
Specifying Acoustic Doors


Acoustic doors must take into account the size of the doorset, the type of doorset, the fire rating, the glazing size, the glass type, the door core, the ironmongery, and of course the acoustic seals. Careful assessment of each of these constraints must be made, in order to ensure that the finished doorset provides the desired acoustic rating.
CASE STUDIES
We are very proud of our 40-year track record of successful collaboration with architects, contractors, NHS Trusts and private hospitals, partnerships which are based on our core tenets: Specialisation, Dedication and Sincerity.
Read from our selection of case studies to see just how we have helped to make a difference in a range of projects, including healthcare and clinical environments.