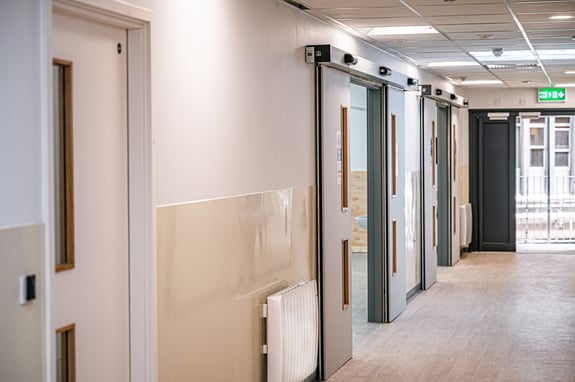 SDS Lamdoor - Northwick Park
The SDS Lamdoor plugs the gap between a traditional Laminate faced door and a DFendoor


At Specialist Door Solutions, we know that having the right door at the right price is so important and that is why we have produced the new Lamdoor.
Lamdoor was created to fill a gap between the traditional laminate faced door and Dfendoor to offer a long lasting, competitive alternative.
This product is great in low to medium traffic areas and comes in 5 fade free colours and timber beading.
At a leading London NHS Hospital the colours chosen were Flint for the Frames with Jade & Gunpowder contrasting doorsets as well as a clean Snowflake frame and doorsets finish.
The colours work really well along with the timber beading so the hospital has a hardwearing, PVC encapsulated finish and a BM Trada fire certified doorset throughout the hospital.