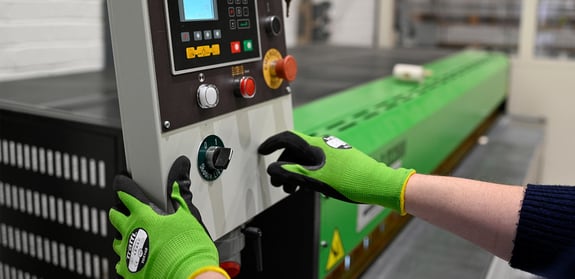 Order and Manufacturing Process
This is the timeline of what happens once you place your order with SDS
At SDS, we pride ourselves on providing unbeatable customer service, and our stringent and detailed ordering and manufacturing process reflects this – ensuring that you have a hassle-free experience.
1. Order received

Once an order has been agreed between yourselves and our Sales Team, it's handed over to one of our specialist Project Managers.

2. Project Manager allocated

After being introduced, the allocated Project Manager will make contact within 48 hours to start going through the final specification and answer any questions you may have. Your Project Manager may ask for further information to progress the order to sign off.

3. Production date and provisional delivery date

One week after specifications have been discussed, the Project Manager will then be in contact to check how everything is going, make sure all questions have been answered and that communication is up to our SDS standard.

4. Order sign-off - production date and provisional delivery date

Once all specifications have been approved and written confirmation has been received, your order will then be signed off and planned in to our production planner.

*Please note that both door and ironmongery will need to be signed off together before we can progress into production.

After sign off, there is a lead-time of 5-6 weeks to delivery to allow time for all materials to be ordered and received. You will then be given a product start date and a delivery date can be arranged.

5. Video update

A short video will be sent, as an update, throughout the production of the doors and frames to show the progress and the status they are in.

6. Delivery date planned

Closer to the final days of production our Transport Coordinator will get in touch to arrange any last minute requirements for the delivery. Once your order has been completed in full the Transport Coordinator will book the delivery in and advise a time of delivery.

7. Door set delivery

You will receive the items as detailed in the section below
Door set delivery
You will receive the items as follows:
Doors: All doors will be shrink wrapped individually on a pallet with cardboard in between for protection. Once strapped on to a pallet for transportation, there will be corner cardboard protectors to go underneath each ratchet strap so they can be transported safely.
Frames: All frames will be fully formed (excluding scalloped frames) as well as shrink wrapped individually ready for delivery, unless requested they be delivered flat packed. These will be ratchet strapped on the vehicle loose (not on a pallet). The frames will need to be handballed from the vehicle, unless there is a forklift onsite.
Delivery notes and other documents: Along with your delivery, you will also receive delivery notes, your signed off door schedules, signed off ironmongery schedules, door pallet packing lists, as well as an ironmongery packing list. This will detail what you have signed off and what has been sent from our facilities at time of dispatch.
If there is anything outstanding from any delivery, you will be notified by either the Project Manager or the Transport Coordinator. However, if you have not been notified, please do get in contact and we can investigate and send the outstanding items to site.
Before delivery:
Please advise:

If there are any specific site requirements that need to be met.
If any of the site contacts change, with regards to delivery.
If the delivery address is subject to change.
Upon delivery:


Loose items included in the delivery:
All ironmongery (boxed and packaged up as door sets)

Hinges
Hinge pad
Hinge screws
Pink grip
Tape

Intumescent strips
Vistimatics
Cleaning kit
Door stops & architraves - these will be delivered as a standard of 2.4m in length, ready to be cut down on site to accommodate the doors and frames.
Other loose items if required:
Bat wing seals
Vision panel kits
Vistimatics
Extension linings
Astragals
Delivered – feedback review:

Once you have received your order you will be asked by the Project Coordinator to fill out a feedback form asking how your service and communication has been with Specialist Door Solutions.

*Please be aware that once your order has been issued out for production, material orders will have been placed, therefore, we are unable to make any further changes or amendments to the schedule(s) without affecting the lead time for your project. This may also result in additional charges being incurred.

**At any point during your orders progression you can request O&M's before or after delivery to help with installation and guidance for our doors and frames.