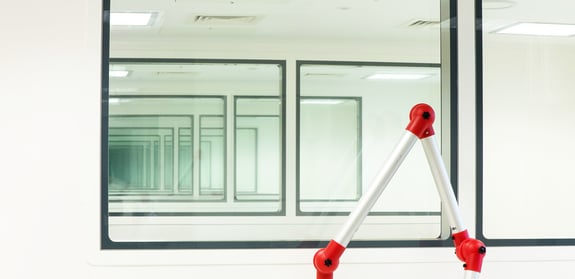 Technology
Applying the latest advancements to design Specialist Door Solutions for the healthcare sector
Innovation is at the core of what we do, from the application of advanced new materials to enhanced customer support solutions, specialising in providing the best quality products the healthcare and clinical sectors.
We are very confident in the construction quality, durability and performance of our products, and with exciting new technology-based solutions currently in development, SDS fully intend to remain at the forefront of modern doorset specification and design.
Functionality
SDS Dfendoor, Lamdoor and Shieldoor are at the forefront of doorset design for healthcare, clinical and pharmaceutical applications.

Compared to more basic laminate or veneer alternatives, they are far more resilient to damage, have ultra-low maintenance requirements and improved hygiene characteristics. As a result, our encapsulated PVC post-formed doorsets represent the perfect combination of functionality and value for high-traffic or clinical areas in hospitals and healthcare environments.
Design
SDS doorsets are designed to combine full fire safety and hygiene compliance, exceptional resilience and improved sound insulation with extremely low maintenance costs and a wide choice of visually attractive finishes.

Our SDS Dfendoor doorsets come with a 10-year, free replacement guarantee and offer huge improvements over more basic and easily damaged laminate or veneer products. Resistant to more than 200 cleaning chemicals, SDS Dfendoor, SDS Lamdoor, and SDS Shieldoor offer far greater resilience to damage and wear, with an attractive, solid colour core that won't fade over time.
Tried and Tested
In impact resistance testing, a SDS Dfendoor and a standard laminate door were repeatedly struck with a representative 30kg weight.

After 12 strikes, the door face of the laminate door was severely broken and no longer fire compliant; in comparison, the SDS Dfendoor only showed minor surface damage after 40 strikes. Performance like this means that all SDS Dfendoor and SDS Shieldoor doorsets come with a 10-year, free replacement guarantee, while SDS Lamdoor comes with 5-year, free replacement guarantees.
COMPLIANCE
SDS design and manufacture entirely in-house, in the UK, resulting in well made, high-quality and fully compliant products.

Popular with architects, contractors and healthcare facilities managers, our PVC doors are less prone to damage and require far less maintenance, which means they remain fully compliant with both fire safety and hygiene standards throughout their lifespan.
Fire Safety – manufactured to meet Q Mark BM Trada standards up to FD60, SDS doorsets help customers to remain compliant with the latest fire safety regulations. SDS Dfendoor, SDS Lamdoor, and SDS Shieldoor also feature intumescent strips to create appropriate seal between the door and frame, giving our doorsets required fire resistance and smoke containment qualities.
Hygiene – encapsulated PVC doorsets are more hygienic and better suited to meet infection control standards when compared to more basic laminate and veneer alternatives. Their greater damage resistance is underpinned by the very nature of their design and material specifications, making them easier to keep clean.
Accessibility – SDS Dfendoor and SDS Lamdoor meet accessibility requirements for the visually impaired. We provide LRV values for all colours in our range to allow clients to select colours and achieve the required 30-point contrast level difference between door frame and door leaf.